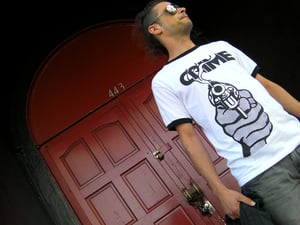 $

15.00
WE HAVE BOOTLEGGED THE BOOTLEGGERS!
The limited edition series of CLASSIC CRIME shirts is now available for the first time directly from CRIME MUSIC.
The model, standing in front of the old Mabuhay Gardens in San Francisco, is 5'8" and wearing a size small.
This unisex 100% white cotton tee, with black ringer collar and sleeves, has the image of the smoking gun and the CRIME logo, which was taken from the cover to a lyric book that was handed out at a CRIME concert at the Fab Mab on Saturday, December 17, 1977.
SHIPPING INCLUDED in US ONLY! Each shirt comes with a classic CRIME button and ships USPS Standard Mail. CHARGES APPLY FOR OVERSEAS SHIPPING!
Cleaning instructions: Turn shirt inside out and Machine Wash cold with like colors. Hang dry. (Do Not put in dryer).